Are Hand Sanitizer Wristbands effective?
Our present demands constant personal hygiene. Items such as face masks or hand sanitizers gel have become essential accessories for walking or traveling. The disinfection wristband is a new accessory that is slowly becoming a hit. What for? Here are 5 main benefits you can get!
Hand sanitizer wristbands — supporting hygiene in any situation
With a wristband dispenser, you don't have to worry about quick access to your sanitizer. The convenient size of the product in no way interferes with walking, shopping or traveling. The easy filling of the wristband means that the disinfectant can be refilled almost anywhere and in a very short time. From now on, you do not need to use liquid dispensers in public places, which is an additional form of immune support!
The Hand Sanitizer Wristbands is good for everyone
Children and the elderly can wear wristbands with sanitizer, which perfectly confirms the versatility of the product.
Women and men, boys and girls can wear them on their wrists. What's more, the conformable band allows you to adjust the bracelet to fit your wrist. However, due to the abundance of colors, there are no problems with choosing an interesting option.
Skin friendly and easy to clean
Hypoallergenic and extremely durable silicone is used for the wristbands with sanitizer. In addition it is easy to clean the wristband, which does not pose an unnecessary risk to hygiene. You can take a shower (like a pool or spa) and use it after the bathroom.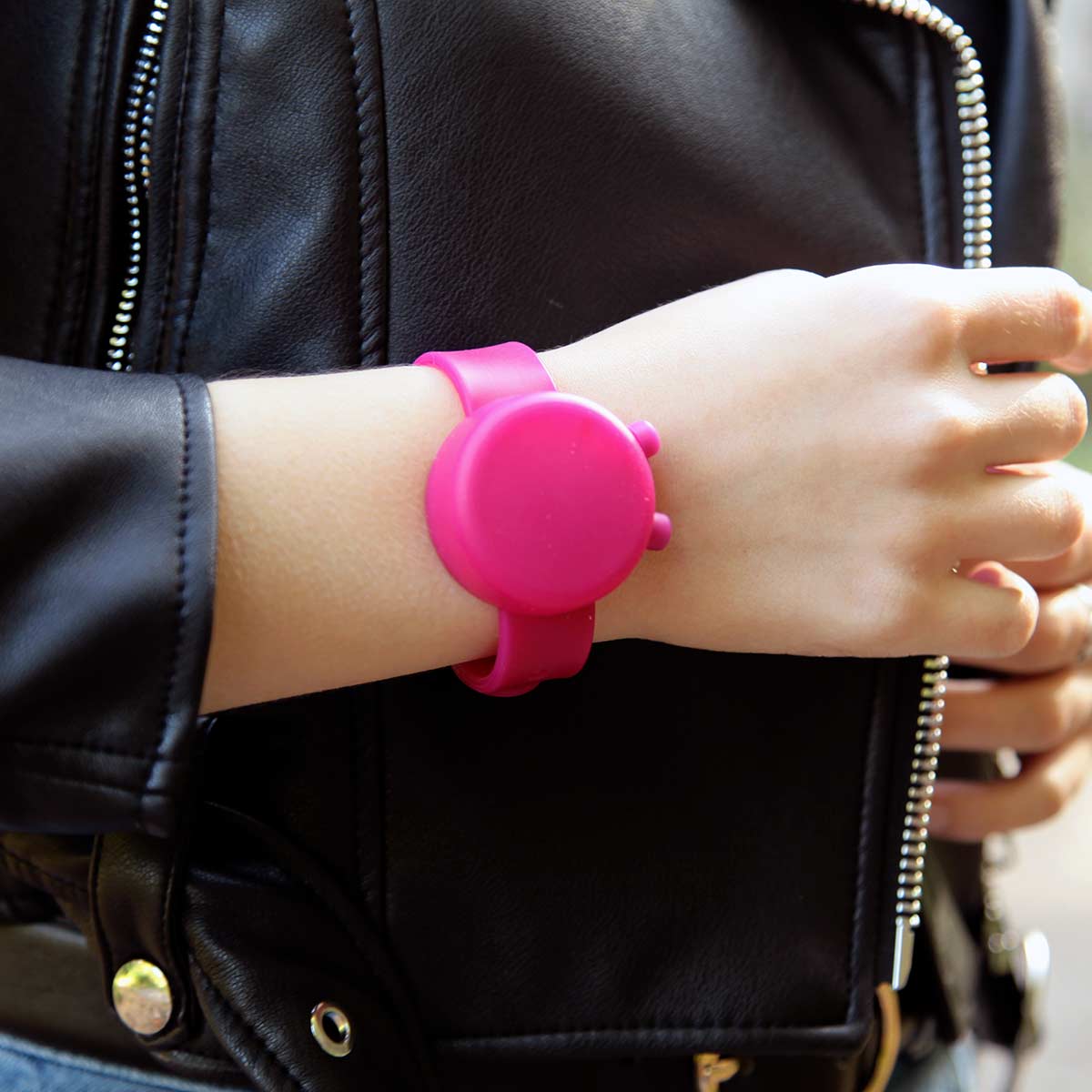 Multiple and universal use
Refillable sanitizer wristbands ensure a long product life. In addition, the material used for production is sufficiently resistant to damage. In addition, wristbands can be filled with other liquids — sanitizer gel is just one example. You can also fill liquid soap or hand lotion in the container. In turn, the dispenser ensures a simple and extremely hygienic application. The Hand Sanitizer Wristband contains about 15 ml of liquid! Therefore, it is recommended to use specially designed sanitizer wristbands to make it easier to refill the liquid container.
Custom Hand Sanitizer Wristbands
Use a wristband with a sanitizer gel dispenser as a promo gadget. Advertise your company or product with a logo or lettering. A custom sanitizer wristband can be a perfect gift, for example, to your friends or clients. They will surely appreciate this humble gesture, which is extremely helpful and proves that you take care of people around. It is also a fantastic idea for any company that treasures their team and wants to give something really valuable.
Hand Sanitizer Wristbands FAQ – Frequently Asked Questions
1. Is the Hand Sanitizer Wristband suitable for schoolers?
Children attending school, as well as youth can use the bracelets during classes.
2. What is the capacity of the wristband container?
The capacity of the wristband can be filled with up to 15 ml of gel or other liquid.
3. Can athletes use a sanitizer wristband?
The high strength of the wristband and the attached dispenser can maintain hygiene regularly during the work out.